Get Remote Access to Universal Robots
ARCS2 is a software-only solution that enables you to get remote access to your Universal robot. ARCS2 comes with many functionalities for easy download on airgate.dk and installation directly into the teach pendant of the Universal Robots
ARCS2 benefits:
✓ Remote Access to robot (VNC) to troubleshoot, program and control Universal Robots
✓ E-mail notification if Universal Robots stops unexpectedly
✓ Access to Universal Robots operating system remote (SSH)
✓ Backup of Universal Robots program to E-mail
✓ Access to a robot Data Samler via a clouded IoT platform:
     – Real time data collection possible from all sensors of the Universal Robots
     – Drag and drop dashboard editor tool for easy monitoring of selected sensor data
ARCS2 comes in two versions

A remote access version for global communication
A Remote Access version for global communication with a robot Data Sampler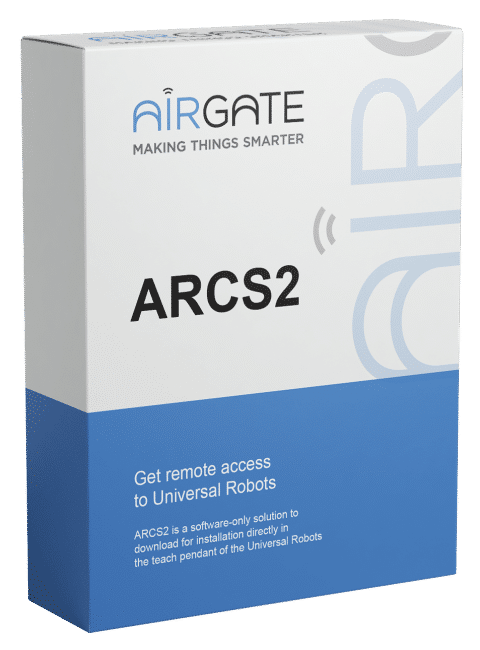 The ARCS2 Remote Access functionality works via VNC and gives you the ability to program, control, or even operate the Universal Robots from anywhere and from any device to support or troubleshoot any robot.
Remote Access works in a very secure way via a VNC client and Secomea administration portal called GateManager, which is Industry 4.0 certified, and security certified by ProtectEM in Germany.
Data Sampler IoT Platform
The ARCS2 Data Sampler enables you to collect data from all sensors of the Universal Robots in a cost-effective secure and easy way. The ARCS2 Data Sampler makes it easy to monitor and compare real-time sensor data collected from the Universal Robot on a clouded web interface.
With the drag & drop dashborard editor, widgets can be added to dashboards based on the collected data. Create multiple dashboards with periods, tables, graphs or period widget to a historical data dashboard or live monitor dashboard for your Universal Robots. No programming or scripting needed for monitoring sensor data on the dashboard. Data is stored for 1 year, after which data is deleted.
Support is available at info@airgate.dk on weekdays between 09:00 a.m. and 4:30 p.m. CET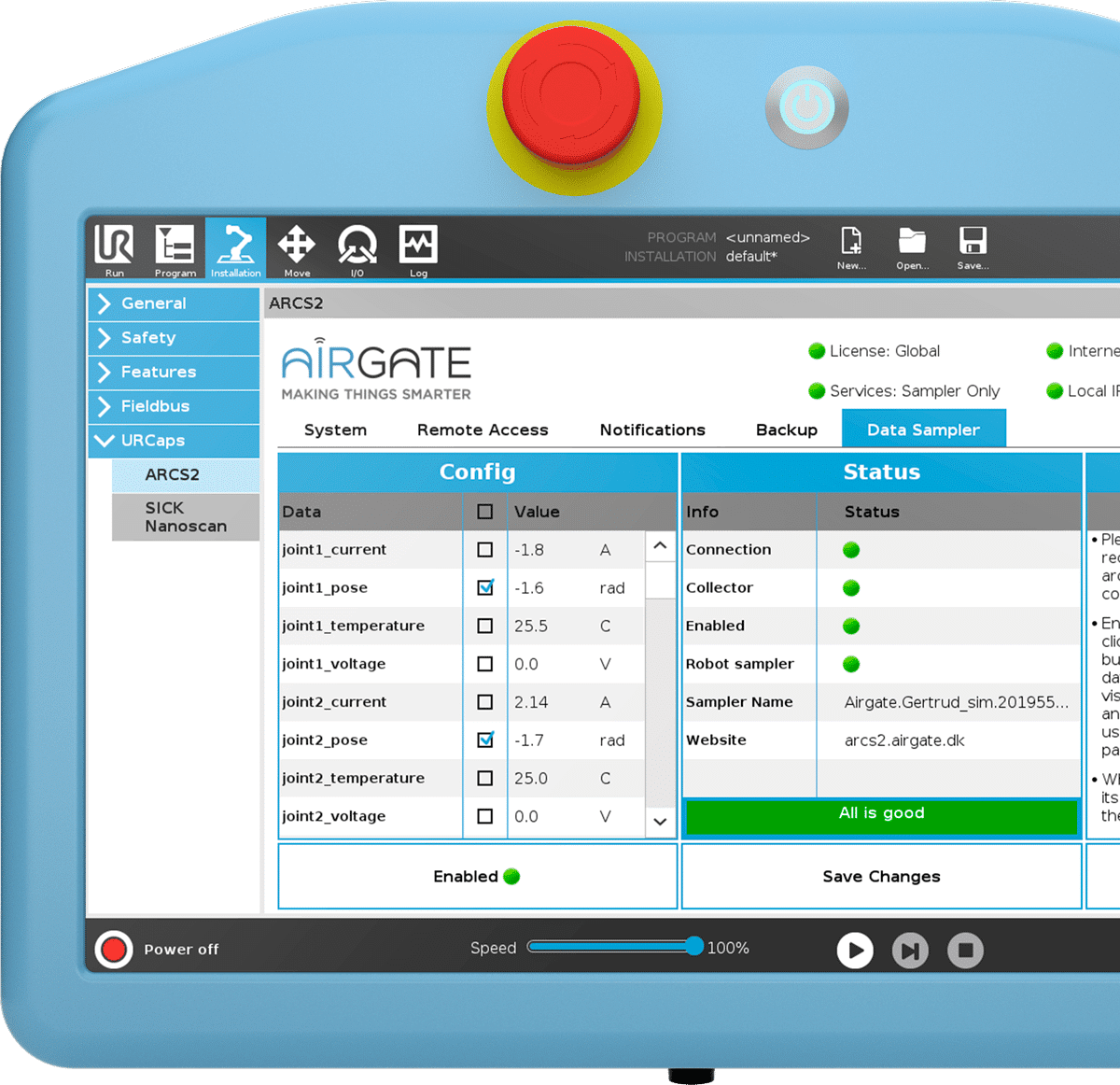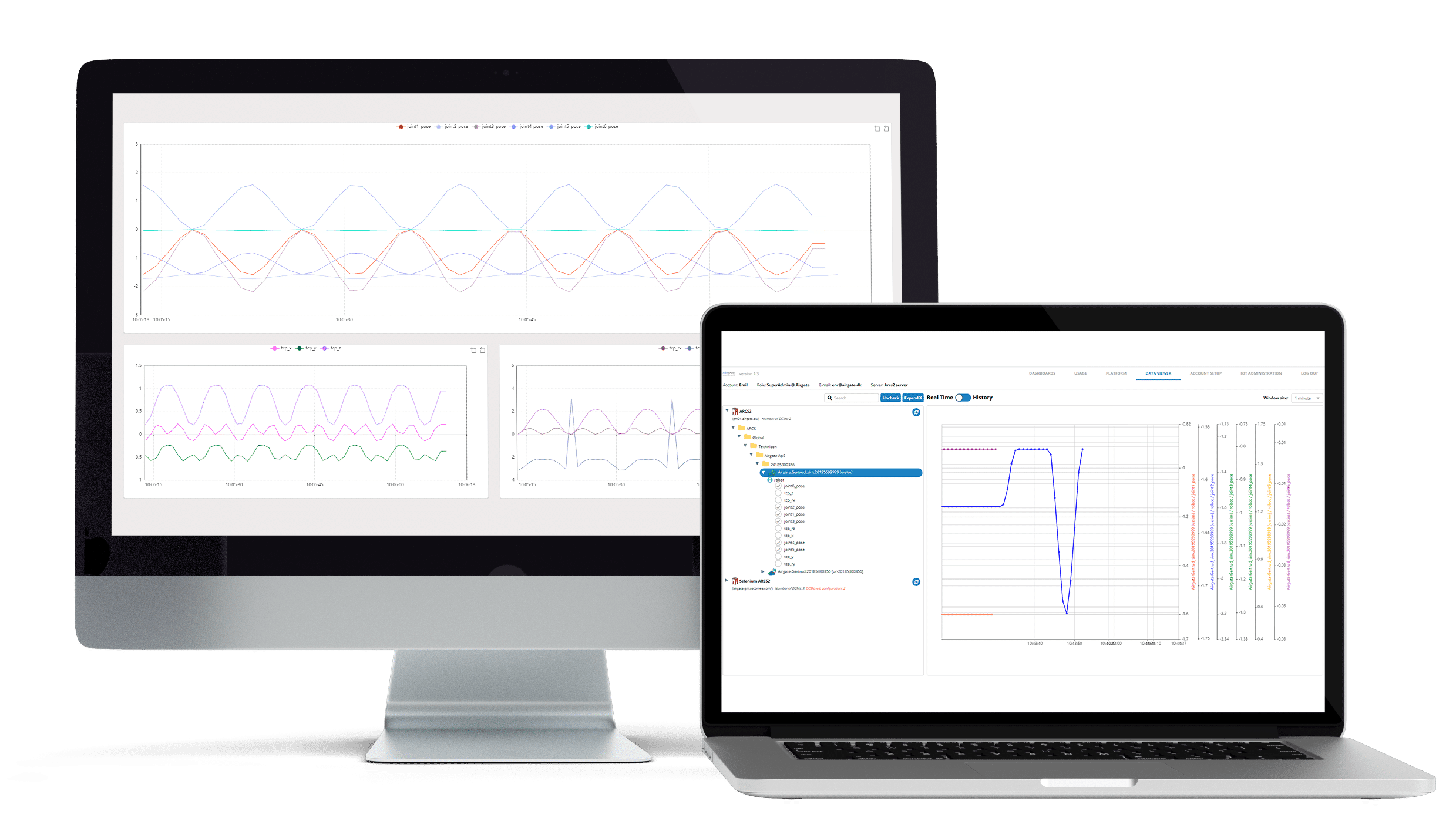 Minimize production downtime by optimizing support and availability
Easy to download and install with a user friendly and intuitive URCap
High security gateway compliant with the requirements of Industry 4.0 (RAMI4.0)
– Single point of Control
– Always on or session based (remote access)
– Stack light convertible
Data Sampler IoT platform with access to monitoring the state of your Universal Robots
Pricing
ARCS2 software or ARCS2 software + datasampler

Global Version
One global user/robot
✓ Global remote access (VNC) to troubleshoot, program and control Universal Robots
✓ E-mail notification if Universal Robots stops unexpectedly
✓ Access to Universal Robots operating system remote (SSH)
✓ Backup of Universal Robots program to E-mail
✓ Truly secure
Global version + Data Sampler
One global user/robot
✓ Global version, and the features the Global version contains
✓ Combines data collection and remote access in a single robot
✓ Addresses all data-collection needs
✓ Easy to setup and administer
(including 1 year of Data Sampler use – yearly subscription of Data Sampler use is € 99)
Please note that it may take up to 48 hours for the Data Sampler license to be active